Finally – Billboard Rates You Can Afford!
About Marketing and Fairway Outdoors have partnered to present a Digital Billboard advertising program that is both effective and affordable.
We are excited to offer our advertisers LED Technology at extraordinary rates. Communicating with your market has never been easier, more direct and instantaneous.While the LED Technology is the cutting edge, this product also offers all of he powerful benefits of the standard permanent bulletin. Your selling message will be delivered quickly, constantly, locally, frequently and to an audience that is in the marketplace, ready to buy. With the LED, you get a bulletin product that offers additional benefits:
B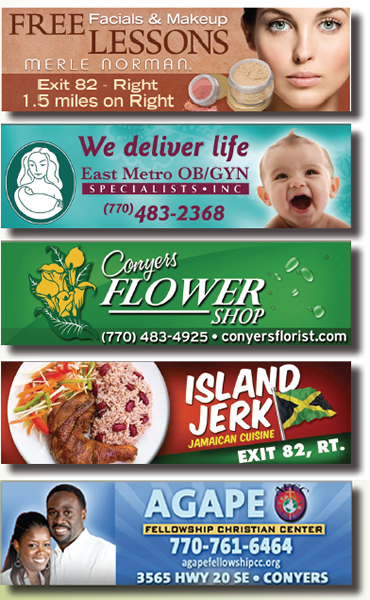 illboard Locations
I-20 Turner Hill / Stonecrest Mall
I-20 Sigman Rd
Maximum Impact:
The brilliance of the LED will make your ad stand out which aids consumer recall and reaction. Research has shown that 94% of people passing digital billboards can recall them. (Harris Poll-Silicon View).
Flexibility:
You can display multiple messages to promote different products/services or target specific demographic groups. Deliver the right message at the perfect time to create a timely and targeted consumer reaction.
Small Production Costs:
No need to pay for vinyl, printing, painting, snipe, shipping or installation charges. A small one-time fee of $200 will cover everything including the design work to create a memorable billboard for you.
Affordable Rates:
By sharing a segment with other advertisers, we can reduce the costs of your billboard to as little as $300 per period. You have the same digital billboard presence as the "big boys" you are just shown less times because you are sharing the space.
Unique Look:
LED Technology allows your advertising message to be Spectacular and Memorable!
How are the advertisements sold?
Advertisements are sold as segments and periods. Each segment is 10 seconds  and each period is 4 weeks.
By sharing a segment with other businesses, you reduce your costs but you still have a ten second advertisement that displays 3600 times per period or 43,200 per year.
Multiple segments which will increase the exposures are also available.