909 Commercial Street Northeast, Conyers, GA, USA
909 Commercial Street Northeast
Conyers
Georgia
30012
US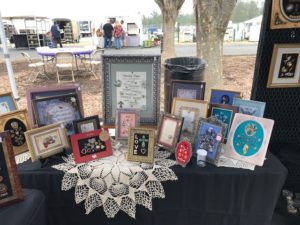 Harrison Vintage Designs
Framed Art Decor from
Vintage Jewelry
Each piece is one of a kind, handcrafted and wonderfully unique. Much love, time and study has gone into the design.
I love collecting vintage jewelry pieces from estate sales to be used in my designs. Not every piece is perfect but reflects the vintage look that goes into an heirloom that can be passed down from one generation to the next.
We also work by commission to create an heirloom with your family jewelry.