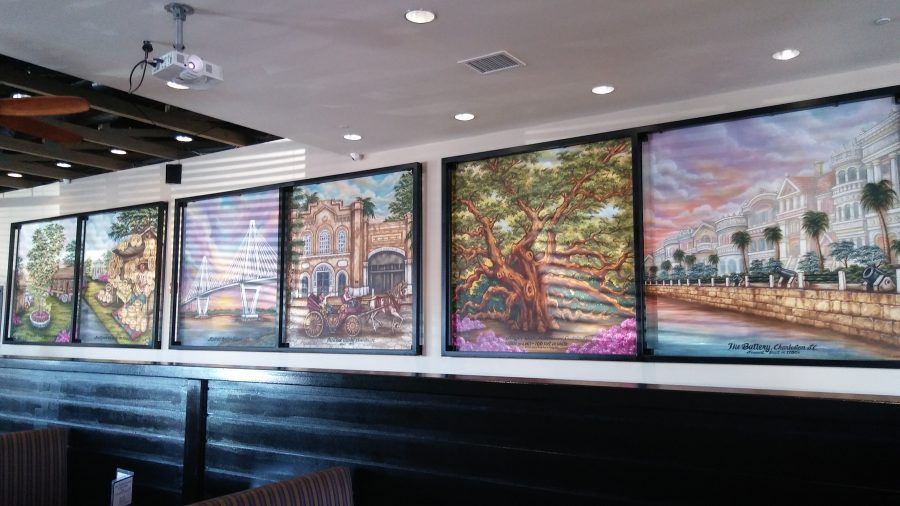 Stop by our Booth for a taste at the Taste of Conyers and Car Show!  May 5th 11am-4pm!
Coaxum's Low Country Cuisine has a modern elegance with its tasteful décor and beautiful large murals that transport you to Charleston, South Carolina. Chef Charlie Hatney took me on journey with low country cuisine that had a beautiful presentation and amazing burst of flavors.
The starters were delightful. The Corn Oyster was tender with a crisp cornmeal batter and a light Cajun rémoulade. The Oysters Rockefeller had a fabulous mix of textures with a tender oyster cooked in creamy spinach and a crispy parmesan top.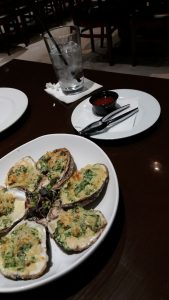 The Mixed Salad was a nice combination of textures from the fresh greens to the crispy fried pocket of goat cheese to the cranberries and candied walnuts. This was served with a peach vinaigrette. The Seafood Chowder was amazing with a little bit of spice and gave a comforting feel like I stepped into Grandma's house.
For the entrée, the salmon was cooked to perfection. The juicy Bourbon Salmon fillet went perfectly balanced with the lightly sweetened and smooth bourbon glaze. The Blackened Salmon gave a happy feeling of great satisfaction. The juicy fillet was delicately blackened yet gave a joy of flavors that rested at the top of my mouth.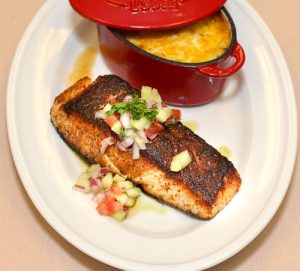 The sides were savory perfection. The collard greens were cooked with spicy peppers and smoked turkey, and the fresh green beans were sautéed with onions and mushrooms. The three-cheese macaroni was creamy goodness (oh, baby baby!) and the popular sweet potato soufflé was amazing with it crunchy pecan and roasted marshmallow topping.
This is the only place in town where you can Build Your Own Boil with choices of crab, crawfish, shrimp, mussels, Andouille sausage, and more.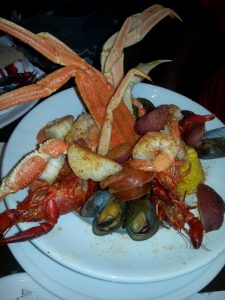 Ah-ha, that was good! I loved the tenderness of the seafood with the spice.
All great meals end sweet. The Bread Pudding melted in my mouth with its delicate sweet and spicy pizzazz. It wouldn't be right without mentioning the French Toast and chicken. The Red Velvet Cake was a taste of Heaven.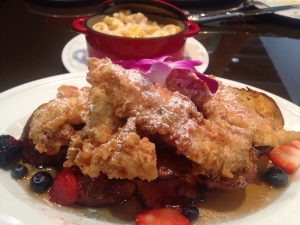 From the ambiance to the food, dining at Coaxum's Low Country Cuisine was a pleasant treat. The menu is very diverse with entrée selections of seafood, chicken, pork, and steak. They have a full bar and offer entertainment that includes live jazz and blues musicians. Also available is a separate area that can be sectioned off and reserved for parties of up to 50 people.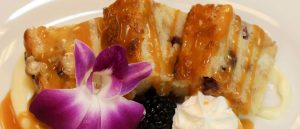 Come try me at the Taste of Conyers Saturday May 5th, 11-4pm!
Coaxum's Low Country Cuisine is located at 1300 Iris Dr. SW in Conyers, GA. Visit CLCCuisine.com or call 770. 648.8677 for more information. Orders can be made online for now or later.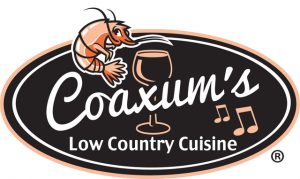 Coaxum's Low Country Cuisine
1300 Iris Drive Conyers, Ga 30013
(770) 648-8677
www.clccuisine.com
JOIN OUR VIP TEXT LIST!
TEXT "COAXUMS" TO 55469