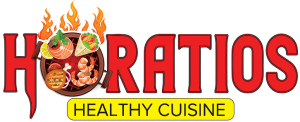 Whether you are coming from the gym, taking a lunch break, or heading home from work, eat healthy at Horatios. You'll be greeted with a friendly smile, laid back atmosphere, and customizable menu.
You can create a wrap or salad any way you want it. There are choices for the type of wrap, greens, vegetables, fruit, nuts, dressings, or get it all. The seasoned cabbage, greenhouse dressing and mango chutney provide an amazing mix of flavors! The possibilities are endless!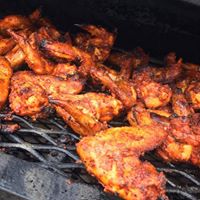 Add salmon, chicken, or shrimp to a wrap or get a plate. The flame from the grill brings out the juiciness of the meat along with the flavors of the seasoning. Choose your flavor from marinades like Creole, Bourbon, jerk, lemon pepper and others.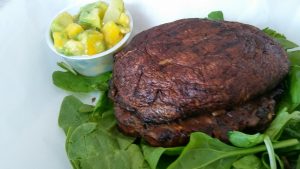 Also, popular on the menu is the jerk chicken taco with mango chutney for a spicy/ sweet combination.The spicy black bean burger with a Portobello mushroom as the bun is another favorite. Finish it all off with cold pressed fruit drinks.
Everything is fresh and cooked to order. Call ahead with your order so it is ready when you get there. Plan to dine in or carry out. Horatios is open 7 days a week and located at 1706 Hwy 138, Suite C&D, Conyers. View their menu online at https://www.horatioshealthycuisine.com/.