Don't forget to come for a treat at our booth at the 2018 Taste                    of Conyers and Car Show! May 5th 11am-4pm
Chef Paula Ballard and her partner McClinton Broughton have knocked it out of the park with their new Lunch Café in Olde Town Conyers. The Bistro of Conyers is Located on Green Street behind the Chamber of Commerce Building. They are serving lunch menu of items not available as your average lunch fare.
Gourmet soups are at the top of the menu. I had the Shrimp, corn and potato chowder and it was to die for. They have a Seafood and a Seasonal Soup each day.
Next on the menu is the Bistro Savory Stuffed Potatoes. This is a meal in itself with choice of toppings such as Cajun Shrimp with Crawfish Cream Sauce, Chicken Fajita with Fresh Avocado Ranch, BBQ Pulled Pork with Sour Cream & Cheddar and last but not least a Vegetarian Delight.
Bistro Salads and Bistro Wraps are unique. Blackberry Chicken with Caramelized Walnuts and Tuna Salad with Cucumber & Tomatoes. Tom Harrison swears the Ham and Cheese Wrap is the best he has ever had.  One of their special salad is this one..It's even call the Spring Salad.  Just refreshing.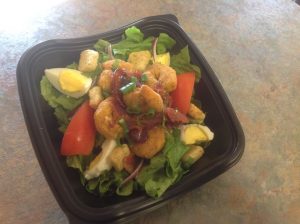 Chef Paula's Signature Bread Puddings are a delightful treat. She has several varieties, so you must try them all. How about this Famous Delicious White Chocolate Bread Pudding…
This you can try at the Taste of Conyers May 5, 2018!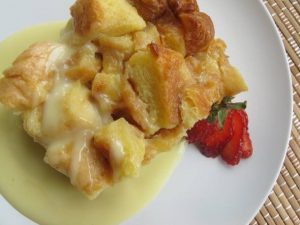 There is a Daily Chef Special for $7.00. They always have gluten free and vegetarian fare for those who need those choices. Go by and enjoy this special new gastro delight. You will be glad you did.
Let's us introduce you to The Bistro of Conyers Family—Choose Rockdale!
The Bistro of Conyers
936 Green Street
Conyers, Ga 30012
678-806-5720
www.thebistroconyers.com
Hours: Monday to Friday
11am to 5pm