Having lunch at Cherokee Run Golf Club is a pleasant, sophisticated experience. The ambiance is amazing, beginning at the entrance driveway that goes along the golf course to the casual dining room with large windows to view the grounds.
Favorites on the menu are the Cherokee Run club sandwich and Buffalo chicken wrap. Some other items include the Reuben, French Dip, chicken or tuna salad, burgers, grilled chicken sandwich, and fish and chips.
The menu is simple in its appetizers, salads, and sandwiches, yet complex in the flavors of the dishes. I started with the soup of the day and was delighted with the heartiness of shredded chicken and vegetables in a savory broth. A sampling of the chili gave a nice surprise with its rich tanginess and meaty thickness.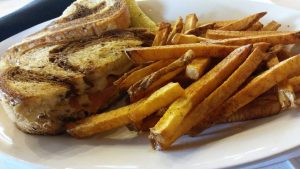 For my main dish, I chose the tuna melt with fresh cut fries. I ordered the tuna melt on marble rye, which was soft and grilled perfectly to melt the swiss cheese. There was a good portion of creamy, tuna salad that had an abundance of flavors from the onion, celery, green pepper, and seasonings.
This is a gem of a place for breakfast and lunch. They are open daily from 8am to 6pm and offer a brunch buffet on Sundays from 11am to 2:30pm. To learn more about Cherokee Run Golf Club, visit cherokeerungolfclub.com/dining-run.